Grand Lake Activities & Guided Fishing
Join us for a memorable Grand Lake guided fishing trip or hiking tour in Rocky Mountain National Park. Our experience Colorado fishing guides are experts on fly fishing Grand Lake and fly fishing Rocky Mountain National Park. See below for our guided Grand Lake activities and guided fishing trips.
Have you ever wanted to learn how to fly fish? Colorado fly fishing is a popular activity and is something every Coloradoan and visitor should try. Whether you have never gone fishing before, haven't tried fly fishing, or have been fly fishing for the last 25 years, a guided fly fishing trip is a fun and unique way to experience this activity.
Our Grand Lake activities are customizable, allowing you to choose between a simple day trip, an overnight trip, or anything in between. Even if you are skilled in the art of fly fishing, our guided tours may show you some unique waters that you have never fished in before or help you learn a new technique.
We offer three different walk and wade fly fishing trip options that last 4, 6, or 8 hours on local fisheries. We provide all gear and accommodate anglers of all skill levels and ages.
Experience the best of Grand Lake fly fishing and book a guided trip!
If you are looking for a unique way to experience your favorite pastime, a river float fishing trip is a great option! Experience the abundant population of hard-fighting Rainbow Trout and big Browns that make this river famous around the world.
Whether you want to try a four or eight-hour float trip or an overnight trip, our Grand Lake fly fishing shop helps make it the experience of a lifetime. We will provide you with the gear you need to fully appreciate a float fishing trip. If you choose an overnight river float trip, we will even provide camping gear and food!
Embark on a legendary Colorado River guided fishing trip with an expert Colorado fly fishing guide by booking today!
Grand Lake is a beautiful lake that is great for fishing. When you choose a Grand Lake fishing trip, you will be fishing in a body of water that is rich in both trout and salmon. This lake is home to rainbows, cutthroats, brooks, browns, and legendary lake trout. If you have never been to Grand Lake before, we recommend heading there, whether it is on a fishing trip with us or just exploring with your family.
While you will be fishing in a lake that is full of fish, you will also be surrounded by beautiful scenery and breathtaking mountains. What better way to enjoy a fishing trip than to be surrounded by all the beauty that Mother Nature has to offer. The peaceful lake and beautiful surroundings make this Grand Lake fishing trip the experience of a lifetime.
Book a Grand Lake fishing guide and take a fishing trip on one of our local lakes like Grand Lake, Williams Fork Reservoir, and more.
While fly fishing is a fun activity on its own, some people are looking for a mountain adventure that is a little more intense. Or perhaps you are just looking to do some fly fishing in a more secluded location that you have to work to get to. That is where our backpacking and fly fishing trip comes in!
We will guide you into the backcountry on a backpacking trip, where you will be able to fish in high mountain lakes and streams. These bodies of water are abundant with fish. This is a beautiful experience and allows you to enjoy fly fishing where no one else is. Imagine basically having a lake all to yourself (our guides like to fish too) and getting to fish for hours on end. We believe it's one of the best things an angler can experience. Plus, you will get to explore areas of the mountains you probably have never been before.
Join our expert Colorado fly fishing guides who will take you into the backcountry of Rocky Mountain National Park for some of the most pristine fly fishing in Colorado.
Our llama pack trips are a unique experience that we know you will love. Enjoy an overnight fishing and backpacking trip without having to carry any of your gear! Llamas are great pack animals and they will be able to adventure into the mountains with us to our fly fishing destination.
This type of fishing trip is completely different than any you have likely ever been on, and it is truly an experience of a lifetime. You can choose to do an overnight trip or a day trip with our llamas toting all your gear for you.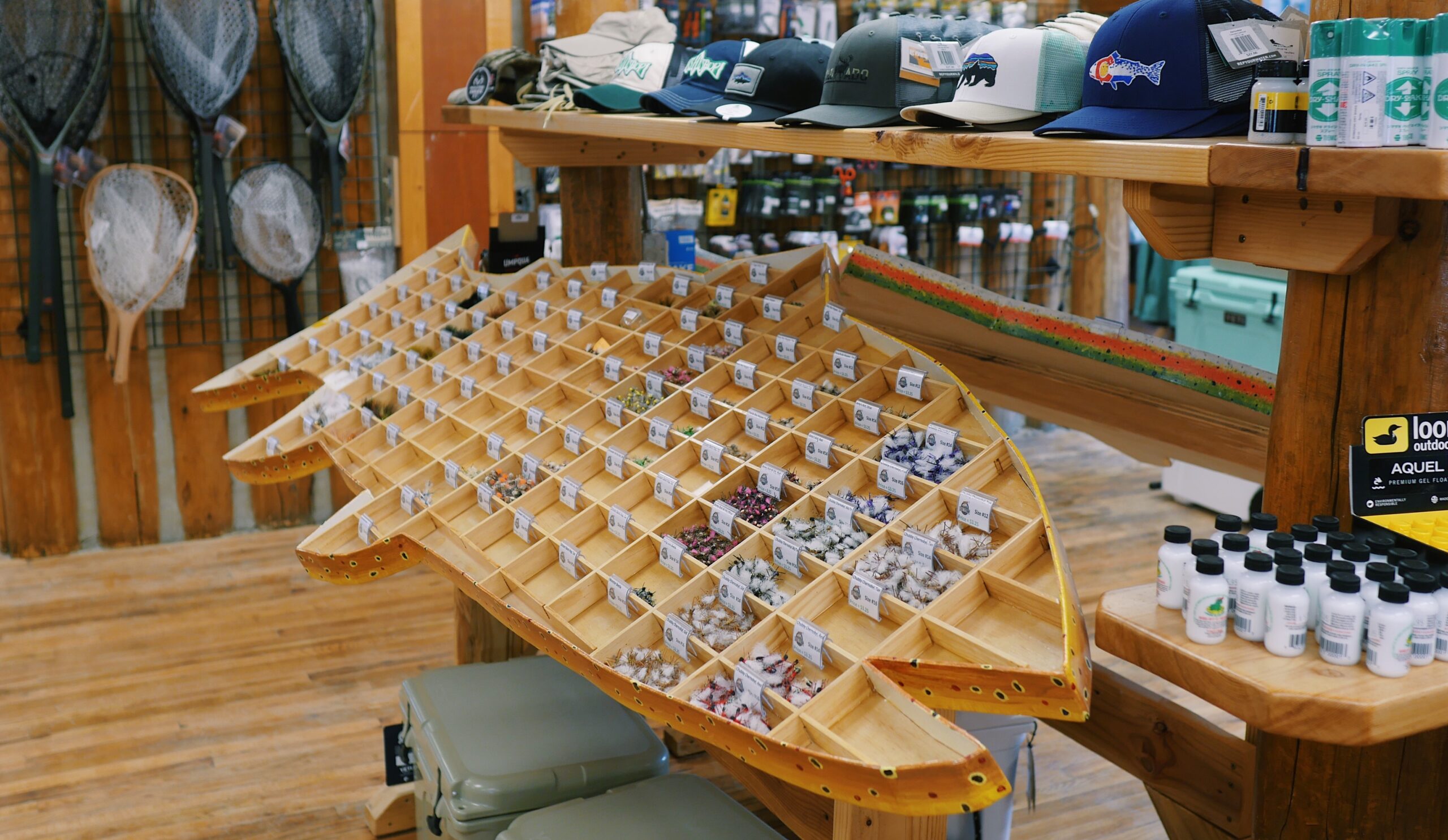 Here at Kirks Fly Shop Grand Lake, we are stoked to have reopened for the 2020 season! In our second year of business, we have a much greater selection of flies, fly rods, waders, spin fishing gear and tackle, and…
Read More