9/19/2022
Rocky Mountain National Park-  Reservation entrance! (9-3pm) Book with us for easy access to fishing the park!- 
Water level is low and water temps are dropping as well. With the low temps surface action has slowed down but fish are still willing to eat nymphs. Afternoon and evening dry fly hatches are still occurring when the weather is sunny and warm. 
Current River Flows Here
Flies:
Nymphs: #16 Rubber Legs Pheasant Tail, #16 Tungsten Electric Caddis #16, Pink San Jaun worms,
Dries: #16 Red Chubby Chernobyl, #16 Elk Hair Caddis, #18 BWO
Streamers: #8 Black Wooly Bugger, # 8 Copper Thin Mint
Colorado River (Parshall)-  Water is clear and fishing well. Nymphing has been very effective as well as Dry/Dropper rigs.
Flies:
Nymphs: #18 zebra midge, #10 coffee Pats,  #12 CDC Pheasant Tail, #20-22 Foam Back RS2.
Dries: ##8 Pink Chuby, #16 Cutter Caddis
Streamers: #6 Galloup's Mini Dungeon, #6 Galloup's Mini Peanut
Colorado River (Pumphouse)- Water clarity is starting to improve. Bug life is very active with lots of Red Quills, BWOs, and Caddis. Nymphing or a Dry/Dropper is still effective with the dry fly fishing picking up in the evening with the bug hatches.
Flies:
Nymphs: #8 Coffee Pat's Rubber Legs, #16 Tungsten Electric Caddis, #18 Foam Back Emerger
Dries: #8 Black or Tan Chubby Chernobyl, #16-20 Elk Hair Caddis, #16 Red Quill
Streamers: #6 White or Cream Mini Dungeon
Lakes
Grand Lake/Shadow Mountain- Look for lakers in Grand Lake at 30 to 50 feet. Most active fish being found suspended near large drop-offs/humps. Jig with white/tan glitter tube jigs tipped with sucker meat. Trolling deep for lakers with nightcrawlers and spoons has also been producing fish. Shadow mountain has fished well trolling/casting shallow diving crankbaits devils with the colder water temperature.   fishing from shore with pink power bait and Rooster Tails has been productive.
Lake Granby- Jig in about 40 foot with pink or purple tube jigs, troll needlefish and flatfish around 30 feet for lakers, and Rapalas around 5-20 feet for browns and rainbows.  from shore use gold kastmaster lures.  Worm and sucker meat on the bottom are also producing.
Williams Fork Reservoir- Jig big white tube jigs in 30 to 60 of water off the points.  Rainbow Rapalas trolled in about 30 to 50 feet of water works well.  from shore use worms,  pink power bait, and cast Countdown Rapalas.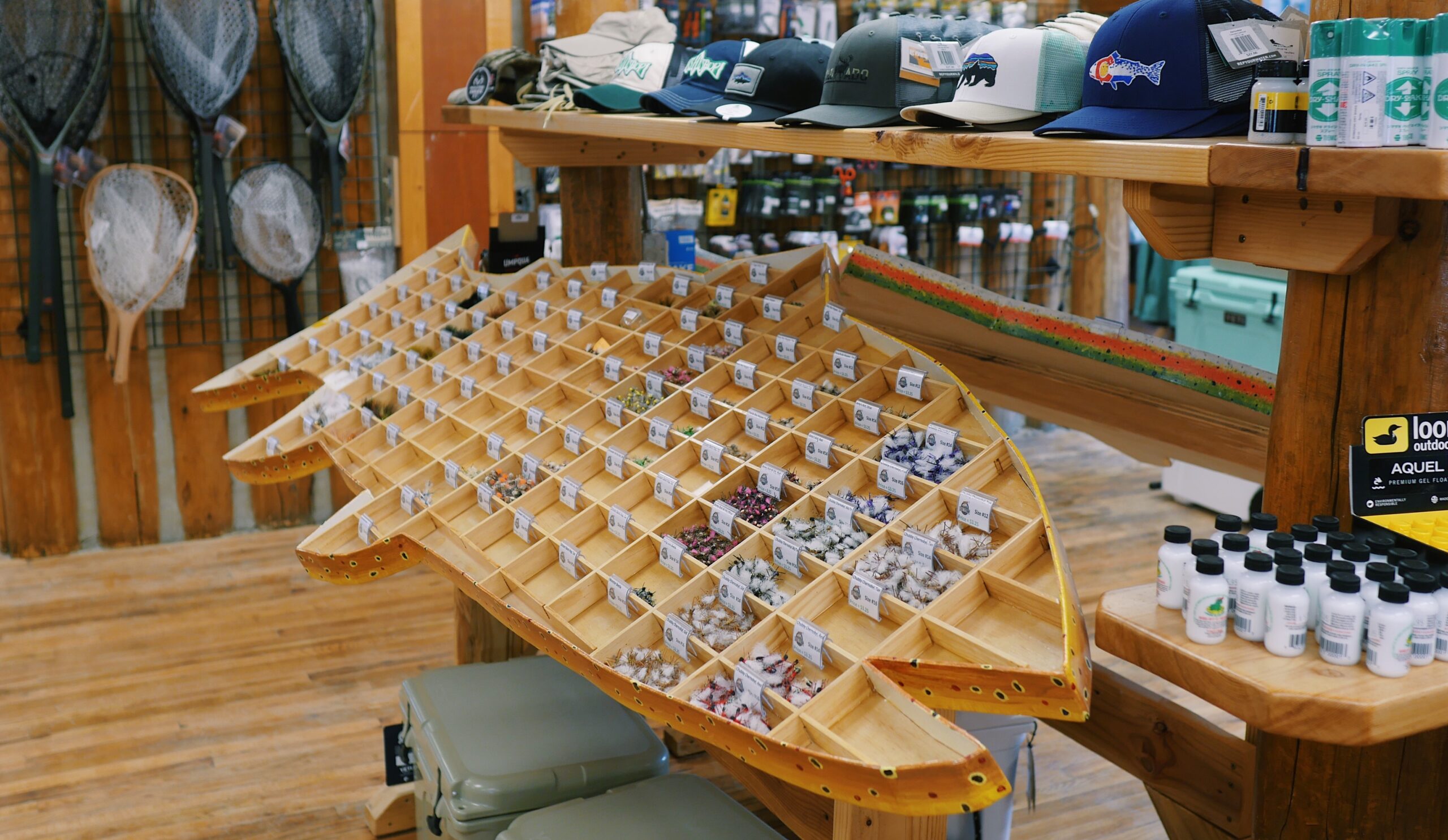 Here at Kirks Fly Shop Grand Lake, we are stoked to have reopened for the 2020 season! In our second year of business, we have a much greater selection of flies, fly rods, waders, spin fishing gear and tackle, and…
Read More